12 students per class

from 18 years old

French level from A2 to C1

From 18/05 to 18/12

Many outdoors activities
Available at
Chamonix
France Langue proposes two "speciel summer" programmes in Chamonix that enable you to learn French half of the day and to make the most of the other half to discover the Mont Blanc valley or to experience high mountain.
Climbing, mountaineering or hiking, these special programmes are open to all levels.
So come with us to discover the high mountain or the Mont Blanc Valley !
Organization of the French courses
From 18/05/2020 to 21/08/2020 and from 21/09/2020 to 18/12/2020*
* Complete beginners courses start on fixed dates : on 18/05/2020 and on 02/11/2020.
You can also start any time with private lessons.

1 to 3 weeks : 295€* / week
4 to 11 weeks : 265€* / week
11+ weeks : 240€* / week
* + 40€ registration fee valid for one year.
After you have done a writing test on the moment of your registration and an oral test upon your first day at school, you will be placed in a class that suits the best to your level. The French courses are held in small groups of 12 students maximum that enable you to work on all the skills useful for a good communication in French: oral and writing understandings, oral and writing expressions, not forgetting that grammar points, lexic and culture are seen on every lesson.
French classes start every Monday and start at different times allowing you to better participate to the different activities. You can register for as many weeks as you want. The rate of courses is 15h a week, spread upon 5 days.
If you are wondering what is your French level, this test will enable you to evaluate yourself and have an idea of your level. Attention, this test is recreational. It is not the official test we will ask you to do when registering.
Dates and hours of the French courses in 2020
From 18/05 to 26/06 : class from 9am to 12.15pm.
From 29/06 to 24/07: class from 8.45am to 12pm (Monday, Wednesday and Friday) + from 2.30pm to 5.45pm (Tuesday and Thursday).
From 27/07 to 07/08 : "Experience the High Mountain" programme. Hours may vary according to the weather and the activities.
From 10/08 to 21/08 : "Discover the Mont Blanc Valley" programme. Hours may vary according to the weather and the activities.
From 21/08 to 21/09 : PROGRAMME CLOSED
From 21/09 to 18/12: class from 9.00am to 12.15pm
Private lessons
Alone with a teacher, the private lessons enable you to work and focus on your needs and weaknesses. Upon your registration and if you are willing to study alone together with a teacher, we will ask you to fill a needs form so that we can prepare lessons that suit the best to your expectations and goals.
During the first class, the teacher will define with you the best method to reach your objectives and they will accompany you all through your learning process. Tests will be made to make sure of your improvements. To make the classes the most effective, we ask our students to provide a lot of personnal work (reading, excercices, learning the lessons, ...).
Seriousness, motivation and discipline are at the heart of a successful learning.
Private lessons are open to all. They can be useful if you need to take French exams such as TCF, DELF, DALF, DFP...
Details of the "French and Experience the High Mountain" programme
From 27/07/2020 to 31/07/2020 or from 03/08/2020 to 07/08/2020
890€* for one week
* Not included: lift pass, rental equipment, insurance, drink and food
This programme will enable you to improve your skills in French and to put them into practice while discovering the high mountain in a safe way, supervized by the famous high mountain guide Antoine Cayrol. You will hear his unbelievable travel stories of mountaineering around the world, he will share with you his passion and knwoledge about the mountain and you will do your first steps at the heart of the high summits on the glaciers and rocks.
Your French teacher will accompany you and guide you all along this immersive trip into the French language and in the high mountain. The minimum required level in French is A2 and you need to be in a good general physical condition (practice a sport at least once a week).
The mountain programme is composed of a climbing session on the Gaillands site, a climbing session on the Mer de Glace, a hike followed by a short easy route climbing on the Aiguillette d'Argentière and another hike in the Vallée Blanche.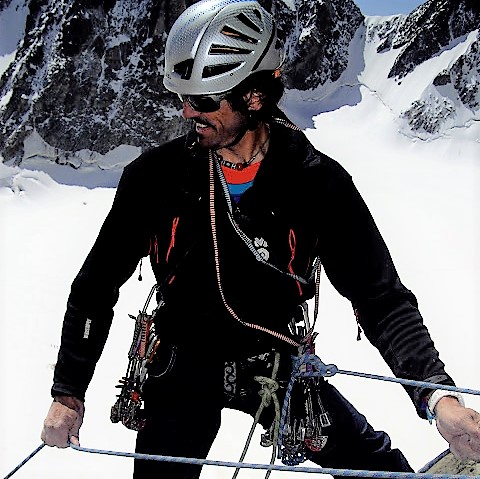 Who is Antoine Cayrol ?
High mountain guide for more than 30 years, Antoine is a passionnate of mountaineering, climbing, hiking, cross-country skiing and trailing since forever. He traveled around the globe in the search of new mountains to climb and new people to know.
Curious, the high mountain guide loves to share his passion with as many people as possible. He loves telling stories about his travels and his many adventures. Antoine has hundreds of anecdotes and memories to share!
Details of the "French and Discover the Mont Blanc Valley" programme
From 10/08/2020 to 14/08/2020 or from 17/08/2020 to 21/08/2020
375€* for one week
* Not included : lift pass, insurance, drink and food.
These activities will guide you to the essential places of the Chamonix Valley. You will learn its history and how it became the cradle of mountaineering. You will experience and understand the mountain culture. This immersion in the marvelous world of the high peaks facilitates the work of the French language in a very natural way thanks to a specific pedagogy. The minimum level of French required is A2.
This programme is made up of 5 half-days, 20 hours of diverse and varied activities with a guide, in the mountains or in the city to make your learning of French more fun. A travel diary will be offered to you during this programme!
3 people minimum to guarantee these activities:
Excursion to Aiguille du Midi in the spectacular cable car which transports you to 3842 meters above sea level facing Mont-Blanc and from where you will discover the most famous peaks of the Alps.

Visit the history area and plunge into hypoxia: you will know everything about the effect of altitude on the body.

Excursion to the Mer de Glace with the little Montenvers train and picnic.

Visit the glaciorium where we learn about glaciology and the effect of global warming on glaciers in the Alps through explanations given by specialists.

Excursion to the Bossons glacier by chairlift. You will learn there the fascinating history of this glacier which advances most quickly in the solid mass of Mont-Blanc (300m / year) and its evolution as well as the stories which it contains such as the crash of "Malabar Princess"
Visit the Alpine Museum and rally game in the city to discover the history of Chamonix, Mont-Blanc and its conquest and the emergence of mountaineering.
Visit to the High Mountain Office where experts inform us about the risks of the mountain and teach us how to appreciate it safely.
Programme key features:
The possibility of enjoying the mountains all year round.
Qualified and reputed guides and instructors

Discovering the Alps and Chamonix with passionate people French courses in small groups

Possibility to rent your equipment from our partners

Free bus or train travel to the different areas

Many supervised activities
Do you have any question about the French and Mountain programmes ?
Contact our team !