Level : A2 minimum
Junior High School 11 years old minimum
High School 15 years old minimum
Fixed date programme Start date : 01/09/2020
Near to the beach
Various sport activities
Registration deadline: April 30th 2020
France Langue offers you a unique programme, allowing students to follow their schooling in a French institution. A great way to immerse yourself in the French life and culture while continuing your French studies.
France Langue takes care of administrative procedures for enrolment in institutions and provides monthly monitoring with the student.
In addition, France Langue offers its services for accommodation and transfers.
Courses
The course takes place in Bayonne – historical and fortified town of 46,000 inhabitants located only 10 minutes from Biarritz and 30 minutes from Spain.
France Langue works with 3 renowned institutions among the best of the region.
Catholic Junior High School
La Salle Saint Bernard
8th best regional junior high school
98% success rate
Catholic High School
Largenté
11th best regional high school
97% success rate
Catholic High School
Saint Louis Villa Pia
7th best regional high school
99% success rate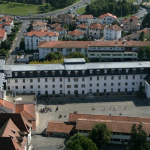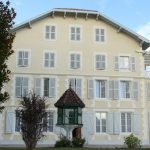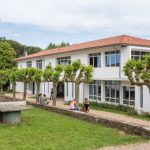 The student will be placed in one of these 3 institutions according to their level and the availability at the time of the booking.
We cannot guarantee one specific institution.
Possibility to practice a sport near the establishments (Judo, Rugby, Tennis, Avrion, Surf etc...)
The French school system
(You will notice that we are going backwards)
College (11 to 15 years old)
College education consists of four years: 6ème, 5ème, 4ème and 3ème grades and includes:
23h of common teaching and 3h of further education for the first year (6ème)
22h of common teaching and 4h of further education for the last 3 years (5ème, 4ème, 3ème)
College courses are structured in disciplines:
French

Mathematics

History Geography

Moral and civic education

Modern languages

Life and earth sciences

Chemistry, Physics

Technology

Physical Education


Plastic arts

Music Education
Optional courses in languages (modern languages, dead languages, regional languages) are also possible depending on the school.
At the end of 3ème (last year in junior high school), an important stage of schooling awaits the student: the national diploma "Le Brevet" (Junior High School certificate). It is obtained with the points accumulated during the continuous examination and the end of the year exams.

High School (15 to 18 years old)
Schooling in high school has three years: the 2nde, the 1ère, the Terminale. At the end of the Seconde (1st year in high school), which is general, common to all students, a choice must be made among the three series of the general courses that lead to the general baccalaureate, diploma essential and mandatory for the pursuit of higher education:
Literary series (L): in-depth studies of French and literature, modern languages and philosophy;
Economic and Social Series (ES): in-depth studies of economic and social sciences, mathematics and history-geography;
Scientific Series (S): in-depth studies of mathematics and experimental sciences.
The baccalaureate certifies knowledge and skills at the end of secondary education and constitutes the first degree in higher education. As such, it allows the pursuit of higher education.
In Seconde (= 2nde = first high school year) : about 28 hours of teaching / week.
The new high school programmes are ambitious. They consolidate the achievements of the college, ensure the transmission of solid subject content and contribute to the intellectual training of students.
C

ommon literary, historical, humanist and scientific culture

Scientific disciplines

Civic training

Languages

Economic and social sciences

Digital

Proficiency in the language and development of oral skills,
In the first year in high school, a balance between the various learning times is searched: time of research, activity, manipulation; time of dialogue and exchange, verbalization, reasoning; experimental practice and modeling activity.
In Première (= 1ère = second high school year) : 26 to 28 hours of teaching / week
The Première classes of the three general series ES, L and S include:
Lessons common to all three series: general culture for understanding the modern world (French, languages 1 and 2, moral and civic education, sport)

specific lessons by series

Supervised Personal Work (TPE) evaluated at the baccalaureate level in the form of oral defense based on a theme chosen by the students during the year;
optional courses, two at the most: languages and cultures from Antiquity (Latin, Greek), language 3, arts or physical eduction.
In Terminale (= third high school year) : 27 to 30 hours of teaching / week
They consist of lessons common to all students in the same series:
L

anguages 1 and 2

Physical Education


Moral and civic education
and optional courses depending on the specialty chosen.
Up to two optional courses can also be taken, among "languages and cultures of Antiquity (Latin, Greek)", "language 3", "arts", "sport".
Exams
DELF Junior: this exam takes place in June at La Salle Saint Bernard junior high school.
Only available for students taking a full academic year from September.
French Baccalaureate: the students have to book both the 2nd and 3rd year of high school with us in order to register the baccalaureate
Accommodation
The students are accommodated on a full board basis and can choose between this 2 options:
Option n°1: Boarding school from Monday to Thursday + host family Friday, Saturday and Sunday nights
Option n°2: Host Family from Monday to Sunday.
We recommend that you arrive on the Friday before the beginning of school to get to know your host family and to get familiar with the area.
The school and the boarding school are closed on public holidays
2019-2020 Calendar
REGISTRATION DEADLINE 30/04/2020
Back to school: 01/09/2020
Classes end: 17/10/2020 - Back to school: 02/11/2020
Classes end: 19/12/2020 - Back to school: 04/01/2021
Classes end: 06/02/2021 - Back to school: 22/02/2021
Classes end: 10/04/2021 - Back to school: 26/04/2021
Classes end: 12/05/2021 - Back to school: 17/05/2021
It is possible to stay in your host family during public holidays (according to availability) when the boarding school is closed – A supplement of 330€/week will be charged.
1 term*
1 academic year
Integration class: 2 weeks french courses
*Only for students of 15 years old and more
Included: tuition fees – full board accommodation (boarding school/host family) – activities organized by the high school on Wednesdays afternoon – return transfers from/to Biarritz airport or train station – monthly meeting at France Langue school.
Not included: Course materials (125€/year) – subscription to the parents' association (20€/year) – For students who require a visa: +150€ for the original documents to be sent by Fedex.
Documents to be sent to the school for your enrollment before 30/04/2020 :

The « High School Programme» enrolment form completed
Copy of a ID photo (passport or national identity card) valid until the end of your stay in France
3 transcripts delivered by your junior/high school
Minor or major of your choice (if applicable): literature or economics
Certificate of your insurance that proves that you are covered for medical expenses during your entire stay in France*
Certificate from your doctor that states that you can practice sports
Parental discharge and medical form completed
* It is mandatory for you to be covered by your own medical insurance during your stay in France. If you prefer to subscribe to an insurance in France, France Langue advise you to contact its partner AVI INTERNATIONAL.

Contact us for more information on the schooling programme in France.